Clinical Science
Correlation between vitamin D serum level and total IgE in asthmatic children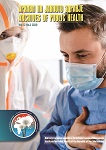 Published 2020-07-16
Keywords
asthma

,

25OHD deficiency

,

total IgE

,

children
How to Cite
1.
Micevska V, Jakovska Mareti T, Kirovski I, Jordanova O. Correlation between vitamin D serum level and total IgE in asthmatic children. Arch Pub Health [Internet]. 2020 Jul. 16 [cited 2023 Dec. 1];12(2):37-45. Available from: https://id-press.eu/aph/article/view/4069
Abstract
Asthma is a chronical disease of the airways characterized by reversible obstruction of the bronchi and airway inflammation. In recent decades, the scientific interest of the vitamin D system and its role in development of asthma and other alergic diseases has been increased.
Aims of this study are to mesure and compare the serum level of 25 OHD in asthmatic and healthy children and corelate the level of 25OHD and total IgE in asthmatic children.
This prospective study includes 70 children at age 2 to 14, of which 32 are children with diagnosed asthma and 38 healthy children. In both  of the groups the serum level of 25 OHD was measured  and by the results 18 % of the healthy children (C) and 28% of the asthma children (E) had 25OHD  deficiency, 45%  of C and 50% of E were insufficient and 37 % of C / 22% of E were with normal 25 OHD serum level. The mean level of 25OHD in C was 27,83 +/- 10,24 and in E 20,9 ng/ml +/- 10,72. The mean levels in both groups had statistic significant difference with p-value < 0,05. According to age no statistic significant difference was found in both of the groups. There was a statisticaly significant decreased serum level of 25 OHD in asthmatic females.In the examined group (children with asthma) there was a negative linear correlation (association) of the level of 25OHD and total IgE serum level with r=- 0,55  Vitamin D serum level measurements in asthma patients gives the possibility for discovering the connection between its deficiency and development of asthma symptoms.
Downloads
Download data is not yet available.
References
Most Recent Asthma Data. CDC Centre for Disease Control and Prevention,February 2017; https://www.cdc.gov/nchs/fastats/asthma.htm
Global Burden of disease due to asthma. The Global Asthma Report 2014; Global Asthma Network; www.globalasthmareport.org/2014/burden/burden.php
Nestorovic B. Pedijatriska pulmologija. 2011, Beograd
Hall SC, Agrawal DK. Vitamin D and bronchial asthma: An Overview of Data From the Past 5 Years. Clin Ther 2017;39(5):917-929
Hoxha M, Zoto M, Deda L, Vyshka G. Vitamin D and its role as a protective factor in allergy. Hindawi Publishing Corporation,International Scholarly Research Notices 2014; Article ID 951946.
Giustina AD, Landi M, Bellini F, Bosoni M , Ferrante G, Travaglini MOA, et al. Vitamin D, allergies and asthma: focus on pediatric patients. World Allergy Organization Journal 2014, 7:27
Pfeffer PE, Mann EH, Hornsby E, S. Chambers E, Chen Y, Rice L, Hawrylowicz CM. Vitamin D influences asthmatic pathology through its action on diverse immunological pathways. Ann Am Thorac Soc 2014; 11(5)S314–S321.
James J, Weaver V, Cantorna MT. Control of circulating IgE by the vitamin D receptor in vivo involves B cell intrinsic and extrinsic mechanisms. Immunol 2017;198(3):1164-1171.
Kannan S, Perzanowski MS, Ganguri HB, Acevedo-Garcia D, Acosta LM, Spatcher M et al. Complex relationships between vitamin D and allergic sensitization among Puerto Rican 2-year-old children. 2017; American College of Allergy, Asthma & Immunology 2018;120(1):84-89.
Hyppönen E1, Berry DJ, Wjst M, Power C. Serum 25-hydroxyvitamin D and IgE - a significant but nonlinear relationship. Allergy 2009;64(4):613-620.
Iqbal SF, Freishtat RJ. The Mechanism of action of Vitamin D in the asthmatic lung. J Investig Med 2011;59(8):1200–1202.
GINA report 2018. Global Initiative for Asthma 2018; Global Strategy for Asthma Management and Prevention
Hollams EM, Hart PH, Holt BJ, Serralha M, Parsons F, de Klerk NH, et al. Vitamin D and atopy and asthma phenotypes in children: a longitudinal cohort study. Eur Respir J
;38:1320–1327.
Joshi VB, Dyke B, Rahman T, Townshend C, Patil V, Kurukullaratchy R. Vitamin D deficiency in the difficult asthma population; findings from a difficult asthma clinic. Thorax 2012; 67: A67.
Rajabbik AH, Lotfi T, Alkhaled L, Fares M, El-Hajj Fuleihan G, Mroueh S, et al. Аssociation between low vitamin D levels and the diagnosis of asthma in children: a systematic review of cohort studies. Asthma & Clinical Immunology 2014;10:31.
El-Hajj Fuleihan G. Vitamin D Deficiency in the Middle East and its health
consequences. Clin Rev Bone Miner Metab 2009; 7:77–93.
Braegger C, Campoy C, Colomb V, Decsi T, Domellof M, Fewtrell M, et al. Vitamin D in the healthy paediatric population: A position paper by the ESPGHAN Committee on Nutrition. ESPGHAN Committee on Nutrition. J Pediatr Gastroenterol Nutr 2013; 56(6):692–701.
van Oeffelen AA, Bekkers MB, Smit HA, Kerkhof M, Koppelman GH,
Haveman-Nies A, et al. Serum micronutrient concentrations and childhood asthma: the PIAMA birth cohort study. Pediatr Allergy Immunol 2011; 22:784–793.
Sjoukes A, Gupta A, Oates T, Bush A, Saglani S. Vitamin D and airway remodeling in paediatric severe therapy resistant asthma. Thorax 2011;66:A18.
Sathyamurthy R, Manney S, Wood A, Perkins G, Webster C, Krishna MT, et al.
Does Vitamin D axis have an effect on the severity of asthma? Thorax 2010; 65 (4):P14.
Martineau AR, Cates CJ, Urashima M, Jensen M, Griffiths AP, Nurmatov U, et al. Vitamin D for the management of asthma. Cochrane library of systematic review.
Al-Ghamdi MA, Susan A Lanham-New SA, Kahn JA. Differences in vitamin D
status and calcium metabolism in Saudi Arabian boys and girls aged 6 to 18 years: effects of age, gender, extent of veiling and physical activity with concomitant implications for bone health.
Public Health Nutrition 2012; 15(10):1845-53.
Kim S, Oh M, Namgung R. Prevalence of 25-hydroxyvitamin D deficiency in Korean adolescents: association with age, season and parental vitamin D status. Public health nutrition 2014; 17(1) 122-130.
Karagüzel G,Dilber B, Çan G. Seasonal vitamin D status of healthy schoolchildren and predictors of low vitamin D status. Journal of Pediatric Gastroenterology and Nutrition 2014; 58(5): 654-660.
Gorter EA, Oostdijk W, Felius A, Krijnen P, Schipper IB. Vitamin D deficiency in pediatric fracture patients: Prevalence, risk factors, and Vitamin D supplementation. J Clin Res Pediatr Endocrinol 2016; 8(4):445-451.