Clinical Science
Tumescent technique as regional anesthesia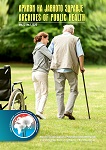 Published 2020-02-19
Keywords
tumescent

,

lidocaine

,

anesthesy
How to Cite
1.
Stevkovska M, Nikodinovska-Vasilevska V. Tumescent technique as regional anesthesia. Arch Pub Health [Internet]. 2020 Feb. 19 [cited 2021 Dec. 4];12(1):33-9. Available from: https://id-press.eu/aph/article/view/4484
Abstract
Тумесцентната техника е техника на инфилтрација во супкутаното ткиво на голем волумен пуфериранфизиолошки раствор во кој е потопена мала концентрација лидокаин заедно со адреналин. Овој раствор лесно и безболно се инфилтрира и доведува до анестезија на поткожното ткиво од одредени телесни регии како абдоменотили натколеното,обезбедува помало крвавење за време на интервенциите изведувани на кожата и поткожното ткиво. Тумесцентната локална анестезија (ТЛА) е многу лесна и сигурна процедура, која широко се употребува во многу хируршки гранки. Целта на трудот беше да се направи проценка на вредноста на тумесцентната локална анестезија кај липосукција. Материјал и методи: Беа евалуирани 16 пациентки со средна возраст од 32 години(24-46), кај кои  беше извршена липосукција на една до три регии, односно на вкупно 27 регии. Во тек на интервенцијата се употреби тумесцентната техника; инфилтрација на раствор од 0,075% лидокаин со 1: 1.000.000 адреналин и 25 мл 8,4% бикарбонати во 1000 мл физиолошки раствор, средно инфилтриран раствор од 2506 мл (1600-5000), средна доза на лидокаин 25,9 мг/кг (18,9-50,6 мг/кг), вкупно средно инфилтриран лидокаин од 2010 мг (1360-4000мг). Резултати: ТЛА беше успешно реализирана; 68,8% (11) од пациентките беа среќни и задоволни, 12,5% (2) од пациентките имаа главоболка и вртоглавица, кај 12,5% (2) од пациентките беше сопрена интервенцијата поради силни болки, кај едната на една регија, кај другата на втората регија и кај 6,3% (1) од пациентките имаше лесни знаци за интоксикација со лидокаин. Немаше компликации кои бараа третман или хоспитализација, а немаше и смртен исход. Заклучок: Самостојно употребена тумесцентна локална анестезија во доза од 18-50мг/кг лидокаин кај правилно избрани пациенти е сигурна техника за регионална анестезија за процедури на поткожното масно ткиво.
Downloads
Download data is not yet available.
References
Klein JA. The tumescent technique for liposuction surgery. Am J Cosm Surg1987; 4:263–72.
Lillis PJ. The tumescent technique for liposuction surgery. Dermatol Clin1990; 8:439–503.
Klein JA. Tumescent technique for regional anesthesia permits lidocaine doses of 35 mg/kg for liposuction surgery. J Dermatol Surg Oncol 1990; 16:248–634.
Klein JA. Tumescent technique for local anesthesia improves safety in large volume liposuction. Plast Reconstr Surg 1992; 92:1085–985.
Ostad A, Kageyama N, Moy RL. Tumescent anesthesia with a lidocaine dose of 55 mg/kg is safe for liposuction. Dermatol Surg 1996; 22:921–76.
Tucker GT, Mather LE. Properties, absorption, and disposition of local anesthetic agents, Neural blockade in clinical anesthesia and management of pain, 2nd ed. Edited by Cousins MJ, Bridenbaugh PO. Philadelphia: Lippincott Williams & Wilkins, 1988, pp. 47–1107.
Rao RB, Ely SF, Hoffmann RS. Deaths related to liposuction. N Engl J Med 1999; 340:1471–5.
Sariguney Y, Demirtas Y, Findikcioglu F, Ayhan S, Latifoglu O, Cenetoglu S, Celeb. Proper timing of breast reduction during the menstrual cycle. Ann Plast Surg 2004;53(6):528-31.
Sulaxane YD, Patel SG. Cyclic fluctuation of bleeding time and clotting time in various phases of menstrual cycle. Natl J Physiol Pharm Pharmacol 2015;5: 328-32.
Jeffrey AK. Anesthetic formulation of tumescent solutions. Dermatol Clin 1999;17(4): 751-759.
Klein JA, JeskeDR. Estimated maximal safe dosages of tumescent lidocaine. Anesth Analg 2016; l122 (5): 1350-1359.
Jayashree V. Tumescent Liposuction: A Review. J Cutan Aesthet Surg 2008; 1(2): 49–57.
Boeni R. Safety of tumescent liposuction under local anesthesia. Dermatology 2011;222:278–281.
Habbema L. Safety of liposuction using exclusively tumescent local anesthesia in 3,240 Consecutive Cases. DermatolSurg 2009;35:1728–1735.
Bentley JB, Glass S, Gandolfi AJ. The influence of halothane on lidocaine pharmacokinetics in man. Anesthesiology 1983; 59:A246.