Clinical Science
Metabolic disturbances during treatment with second generation antipsychotics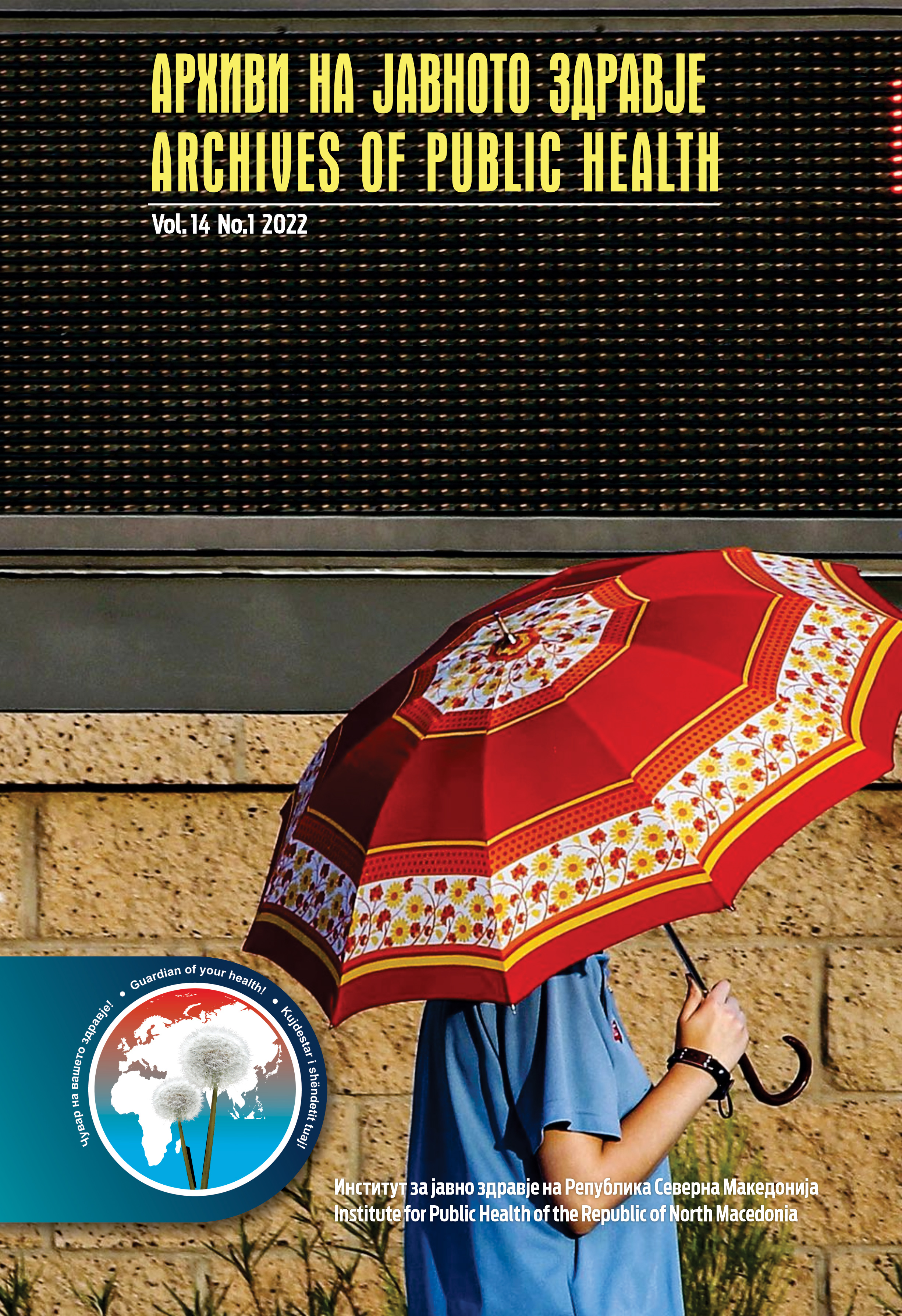 Published 2022-06-23
Keywords
metabolic syndrome

,

second generation antipsychotics

,

psychiatric disorders
How to Cite
1.
Manusheva N, Babinkostova Z, Arsova S, Hadjihamza K, Naumovska A, Markovic S. Metabolic disturbances during treatment with second generation antipsychotics . Arch Pub Health [Internet]. 2022 Jun. 23 [cited 2022 Dec. 9];14(1). Available from: https://id-press.eu/aph/article/view/6041
Copyright (c) 2021 Nensy Z. Manusheva, Zoja Babinkostova , Slavica Arsova , Kadri Hadjihamza , Andromahi Naumovska, Snezana Markovic
This work is licensed under a Creative Commons Attribution 4.0 International License.
Abstract
Second generation antipsychotics (SGA) cause side effects through weight gain, dyslipidemias (cholesterolemia, hypertriglyceridemia) as well as affected glucose homeostasis in terms of hyperglycemia,insulin resistance and the incidence of type 2 diabetes mellitus. The aim of this study was to investigate metabolic changes in patients treated with SGA. Materials and methods: This was a prospective study of 50 patients treated with SGA (olanzapine, clozapine, risperidone, quetiapine, aripiprazole) at the PHI University Clinic of Psychiatry who met the relevant ICD-10 criteria. The following parameters were monitored: history and clinical examination, blood pressure and pulse, height, weight, body mass index (BMI), Brief Psychiatric Rating Scale (BPRS), Clinical Global Impression Scale (CGI-S), dose of prescribed SGA,as well as: fasting glycemia, lipid status, HDL, LDL, glycosylated hemoglobin (HgA1C). The parameters were determined at the beginning and after three months of treatment. Results: The subjects in terms of the criteria of metabolic syndrome were: 64% with a larger waist circumference, 53.2% with an increase in systolic and/or diastolic blood pressure, 31.3% with a BMI>30, and 39% with an increase in glycaemia and reduced HDL values ​​at 23.4%. Also,18% of the respondents met three or more criteria. Statistical analysis of the differences in the analyzed parameters showed statistically significant differences for the CGI-S score (p = 0.00007) and for the diastolic pressure (p = 0.038). Correlation of equivalent doses of SGA with BMI (r = -0.637) was obtained. Discussion: The study confirmed presence of metabolic disorders in patients treated with SGA. Although there was no significant difference of metabolic syndrome parameters in relation to the general population, a correlation with BMI has been established. Conclusion: This study showed that patients treated with second-generation antipsychotics should be monitored during their treatment for the parameters of the metabolic syndrome, particularly BMI.
Downloads
Download data is not yet available.
References
Uçok A, Gaebel W. Side effects of atypical antipsychotics: a brief overview. World Psychiatry 2008;7(1):58-62.
Lui K, Randhawa G, Totten V, Smith AE, Raese J. Is Metabolic Syndrome On the Radar? Improving Real-Time Detection of Metabolic Syndrome and Physician Response by Computerized Scan of the Electronic Medical Record. Prim Care Companion CNS Disord 2016;18(1).
Lieberman JA, Stroup TS, McEvoy JP, Swartz MS, Rosenheck RA, Perkins DO, et al. Clinical Antipsychotic Trials of Intervention Effectiveness (CATIE) Investigators. Effectiveness of antipsychotic drugs in patients with chronic schizophrenia. N Engl J Med 2005; 22;353(12):1209-23.
Sharif Z. Side effects as influencers of treatment outcome. J Clin Psychiatry 2008;69(Suppl 30):38-43.
JahrVedal TS, Steen NE, Birkeland KI, Dieset I, Reponen EJ, Laskemoen JF, et al. Adipokine levels are associated with insulin resistance in antipsychotics users independently of BMI. Psychoneuroendocrinology 2019;103:87-95.
HuhnМ, NikolakopoulouА, Schneider-ThomaЈ, Krause М, Samara М, Peter N, et al. Comparative efficacy and tolerability of 32 oral antipsychotics for the acute treatment of adults with multi-episode schizophrenia: a systematic review and network meta-analysis. Lancet 2019; 394: 939–951.
Pillinger T, McCutcheon RA, Vano L, Mizuno Y, Arumuham A, Hindley G, et al. Comparative effects of 18 antipsychotics on metabolic function in patients with schizophrenia, predictors of metabolic dysregulation, and association with psychopathology: a systematic review and network meta-analysis. Lancet Psychiatry 2020;7: 64–77.
Shulman M, Miller A, Misher J, Tentler A. Managing cardiovascular disease risk in patients treated with antipsychotics: a multidisciplinary approach. J Multidiscip Healthc2014;7:489-501. Published 2014 Oct 31.
Rojo LE, Gaspar PA, Silva H, Risco L, Arena P, Cubillos-Robles K, et al. Metabolic syndrome and obesity among users of second generation antipsychotics: A global challenge for modern psychopharmacology. Pharmacol Res 2015; 101:74-85.
Alberti KG, Zimmet P, Shaw J. Metabolic syndrome-a new world-wide definition. A consensus statement from the International Diabetes Federation. Diabet Med 2006 May;23(5):469-80.
Grundy SM, Brewer HB, Cleeman JI, Smith SC, Lenfant C. Definition of Metabolic Syndrome. Circulation 2004;109:433–438.
Lee S, Ko Y, Kwak C, et al. Gender differences in metabolic syndrome components among the Korean 66-year-old population with metabolic syndrome. BMC Geriatr 2016;16:27.
Wang HH, Lee DK, Liu M, Portincasa P, Wang DQ. Novel insights into the pathogenesis and management of the metabolic syndrome. PediatrGastroenterolHepatolNutr 2020;23(3):189-230.
Manusheva N, Chabukovska E, Babinkostova Z, Markovikj S. Hyponatremia in olanzapine treated patient. Macedonian Journal of Anaesthesia 2021;5(2):78-83.
Pouragha H, Amiri M, Saraei M, Pouryaghoub G, Mehrdad R. Body impedance analyzer and anthropometric indicators; predictors of metabolic syndrome. J Diabetes Metab Disord 2021;1-10.
Beigh SH, Jain S. Prevalence of metabolic syndrome and gender differences. Bioinformation 2012;8(13):613-616.
Pucci G, Alcidi R, Tap L, Battista F, Mattace-Raso F, Schillaci G. Sex- and gender-related prevalence, cardiovascular risk and therapeutic approach in metabolic syndrome: A review of the literature. Pharmacol Res 2017;120:34-42.
Jiang B, Zheng Y, Chen Y, Chen Yi, Li Q, Zhu C, al. Age and gender-specific distribution of metabolic syndrome components in East China: role of hypertriglyceridemia in the SPECT-China study. LipidsHealth Dis2018;17:92.
Mauvais-Jarvis F. Epidemiology of gender differences in diabetes and obesity. AdvExp Med Biol 2017;1043:3-8.
Huang PL. A comprehensive definition for metabolic syndrome. Dis Model Mech 2009;2(5-6):231-237.
De Hert M, Dekker JM, Wood D, Kahl KG, Holt RI, Möller HJ. Cardiovascular disease and diabetes in people with severe mental illness position statement from the European Psychiatric Association (EPA), supported by the European Association for the Study of Diabetes (EASD) and the European Society of Cardiology (ESC). EurPsychiatry 2009;24(6):412-24.
American Diabetes Association; American Psychiatric Association; American Association of Clinical Endocrinologists; North American Association for the Study of Obesity. Consensus Statement: Consensus development conference on antipsychotic drugs and obesity and diabetes. J Clin Psychiatry 2004; 65(2):267-272.
Gebhardt S, Haberhausen M, Heinzel-Gutenbrunner M, Gebhardt N, Remschmidt H, Krieg JC, t al. Antipsychotic-induced body weight gain: predictors and a systematic categorization of the long-term weight course. J Psychiatr Res 2009;43(6):620-6.
Eckel RH, Alberti KG, Grundy SM, Zimmet PZ. The metabolic syndrome. Lancet 2010;375(9710):181-3.
Robinson DG, Schooler NR, Correll CU, John M, Kurian BT, Marcy P, et al. Psychopharmacological treatment in the RAISE-ETP study: Outcomes of a manual and computer decision support system based intervention. Am J Psychiatry 2018;175(2):169-179.
Attux C, Quintana MI, Chaves AC. Weight gain, dyslipidemia and altered parameters for metabolic syndrome on first episode psychotic patients after six-month follow-up. Braz J Psychiatry 2007;29(4):346-9.
Attux C, Martini LC, Elkis H, et al. A 6-month randomized controlled trial to test the efficacy of a lifestyle intervention for weight gain management in schizophrenia. BMC Psychiatry 2013;13:60.
Zhang J, Gallego JA, Robinson DG, Malhotra AK, Kane JM, Correll CU. Efficacy and safety of individual second-generation vs. first-generation antipsychotics in first-episode psychosis: A systematic review and meta-analysis. Int J Neuropsychopharmacol2013;16(6):1205-1218.
Kraal AZ, Ward KM, Ellingrod VL. Sex differences in antipsychotic related metabolic functioning in Schizophrenia Spectrum Disorders. Psychopharmacol Bull 2017;47(2):8-21.
Rummel-Kluge C, Komossa K, Schwarz S, Hunger H, Schmid F, Lobos CA, et al. Head-to-head comparisons of metabolic side effects of second generation antipsychotics in the treatment of schizophrenia: a systematic review and meta-analysis. Schizophr Res 2010; 123(2-3):225-33.
Raben AT, Marshe VS, Chintoh A, Gorbovskaya I, Müller DJ, Hahn MK. The complex relationship between antipsychotic-induced weight gain and therapeutic benefits: A Systematic Review and Implications for Treatment. Front Neurosci 2018; 11:741.
Leucht S, Samara M, Heres S, Davis JM. Dose Equivalents for Antipsychotic Drugs: The DDD Method. Schizophr Bull 2016;42(Suppl 1):S90-S94.