Review
Dry eye disease and risks of urban air pollution – literature review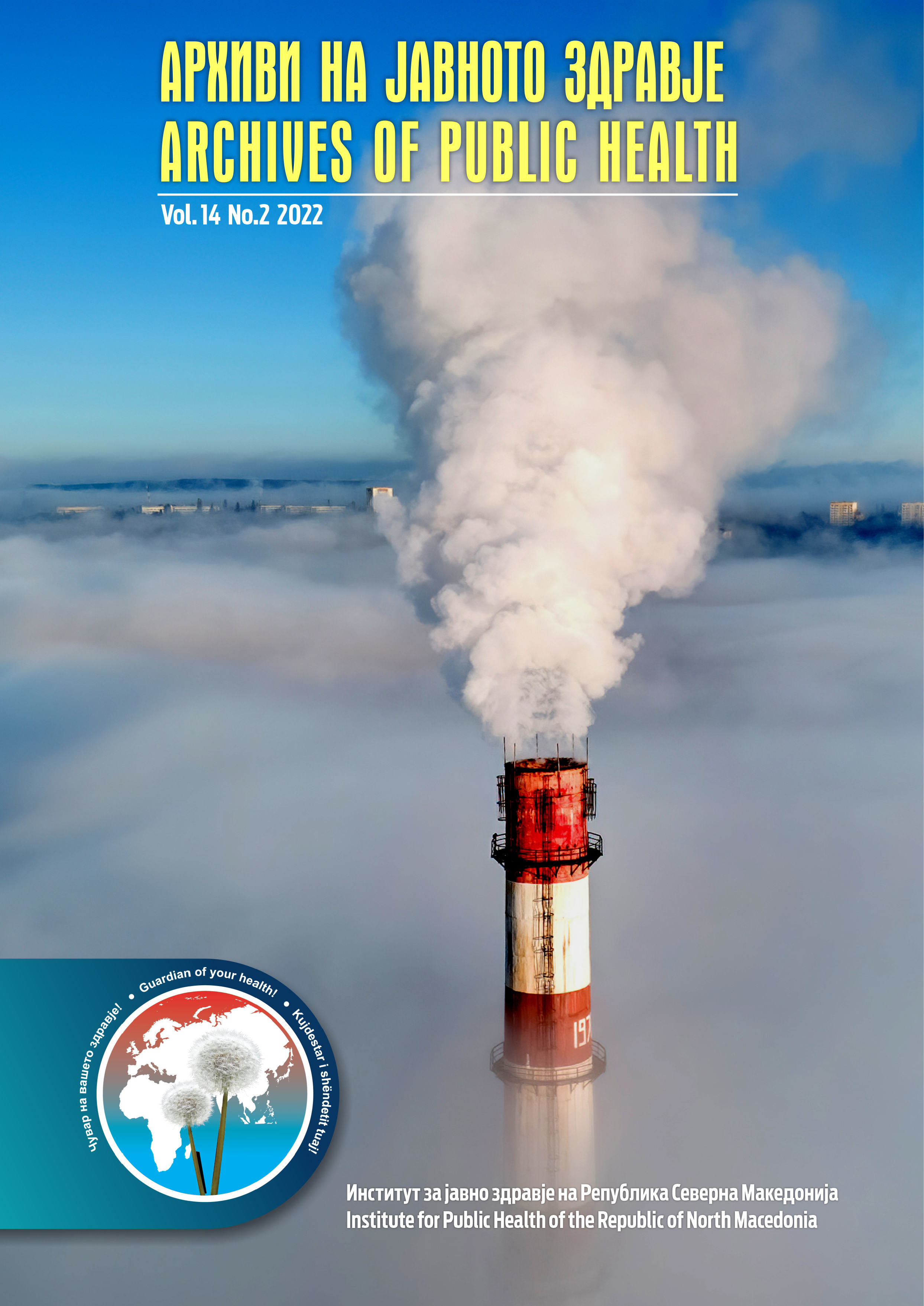 Published 2022-12-30
Keywords
dry eye

,

air pollution

,

eye allergy
How to Cite
1.
Trpevska-Shekerinov N, Petrushevska A, Gjoshevska-Dashtevska E, Shekerinov T, Nivichka-Kjaeva J. Dry eye disease and risks of urban air pollution – literature review. Arch Pub Health [Internet]. 2022 Dec. 30 [cited 2023 Jun. 7];14(2):113-9. Available from: https://id-press.eu/aph/article/view/6061
Copyright (c) 2022 Natasha Trpevska Shekerinov , Andrijana Petrushevska, Emilija Gjoshevska-Dashtevska, Toni Shekerinov, Jana Nivichka-Kjaeva
This work is licensed under a Creative Commons Attribution 4.0 International License.
Abstract
Air pollution has a major impact on health, and it particularly affects the mucous membranes of the respiratory tract and the eyes. The ocular effects of chronic, long-term exposure to high levels of air pollution are still unclear. The increase in air pollution levels can be associated with an increase in the instability of the tear film. The aim of this paper is to evaluate and discuss the available data about chronic eye diseases in regions with high air pollution. Furthermore, the review also offers a certain understanding of the link between chronic dry eye disease (DED) and air pollution. Materials and methods: Specific keywords (dry eye, air pollution, and urban) were used to search the medical databases of PubMed and Medline. This research technique led to obtaining 103 papers, dating from 1995 to 2021. Out of those, 15 were used as the basis of this paper. Results: The pathophysiological mechanisms of oxidative stress and ocular surface inflammation involve the selective binding of environmental agents to ocular surface membrane receptors, leading to the activation of proinflammatory signaling pathways with changes in the extracellular stromal matrix and consequent occurrence of inflammation of the ocular surface with epithelial defects. Conclusions: Dry eye disease, pollution, and eye allergy overlap, but their presentations can be different. Future advancements in monitoring technology and the development of modern, non-invasive diagnostic methods will help prove the link between air pollutants and  DED. The points should be aimed at preventing the global risks of antigenic stimulation of "urban eye".
Downloads
Download data is not yet available.
References
Zemanová M. Dry Eye Disease A review. Cesk Slov Oftalmol. 2021 Winter;77(3):107–119. DOI: https://doi.org/10.31348/2020/29
Lamp MA. Report of the National institute / industry workshop on Clinical Trials in Dry Eyes. CLAO J. 1995; 21(4):221-32
Cha SH, Lee JS, Oum BS, Kim CD. Corneal epithelial cellular dysfunction from benzalkonium chloride (BAC) in vitro. Clin Exp Ophthalmol 2004;32(2):180-184. DOI: https://doi.org/10.1111/j.1442-9071.2004.00782.x
Wolf J, O'Neill NR, Rogers CA, Muilenberg ML, Ziska LH. Elevated atmospheric carbon dioxide concentrations amplify Alternaria alternata sporulation and total antigen production.Environ Health Perspect. 2010;118(9):1223-8. DOI: https://doi.org/10.1289/ehp.0901867
Alves M, Novaes P, Rocha EM. Is dry eye an environmental disease? Arq Bras Oftalmol 2014;77(3):193-200 DOI: https://doi.org/10.5935/0004-2749.20140050
Seen S, Tong L. Dry eye disease and oxidative stress. Acta Ophthalmol 2018;96(4):e412-e420. DOI: https://doi.org/10.1111/aos.13526
Kjæregaard SK, Hempel-Jørgensen A, Mølhave L, et al. Eye trigeminal sensitivity, tear film stability, and conjunctival epithelium damage in 182-non-allergic, non-smoking Danes. Indoor Air 2004;14:200–207. DOI: https://doi.org/10.1111/j.1600-0668.2004.00236.x
Hwang SH, Choi YH, Paik HJ, Wee WR, Kim MK, Kim DH. Potential importance of ozone in the association between outdoor air pollution and dry eye disease in South Korea. JAMA Ophthalmol 2016;134(5):503-510. DOI: https://doi.org/10.1001/jamaophthalmol.2016.0139
Fu Q, Mo Z, Lyu D, Zhang L, Qin Z, Tang Q, et al.Air pollution and outpatient visits for conjunctivitis: A case-crossover study in Hangzhou. China Environ Pollut 2017; 231(Pt 2): 1344-1350. DOI: https://doi.org/10.1016/j.envpol.2017.08.109
Perry HD, Donnenfeld ED. Dry eye diagnosis and management in 2004. Curr Opin Ophthalmol 2004;15:229–304. DOI: https://doi.org/10.1097/00055735-200408000-00004
Sullivan BD, Crews LA, Messmer EM, Foulks GN, Nichols KK, Baenninger P, et al. Correlations between commonly used objective signs and symptoms for the diagnosis of dry eye disease: clinical implications. Acta Ophthalmol 2014.
Choi H, Lee SB. Nonseasonal allergic conjunctivitis in the tropics: experience in a tertiary care institution. Ocul Immunol Inflamm 2008;16(4):141-5. DOI: https://doi.org/10.1080/09273940802184182
Stern ME, Beuerman RW, Fox RI, et al. A unified theory of the role of the ocular surface in dry eye. Adv Exp Med Biol 1998;438:643–651. DOI: https://doi.org/10.1007/978-1-4615-5359-5_91
Foulks GN. Determinants of Tear Film Stability. American Academy of Ophthalmology Annual meeting October 15–18 Chicago The Castroviejo Lecture; 2005.
Wolkoff P, Kjæregaard SK. The dichotomy of relative humidity on indoor air quality. Environ Int 2007;33:850–857. DOI: https://doi.org/10.1016/j.envint.2007.04.004