Тема на бројот
Без наслов, но со повод! ... или како да заштедите на Вашата телефонска сметка ...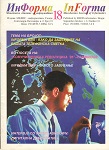 How to Cite
Стафилов, Здравко. (2016). Без наслов, но со повод! . или како да заштедите на Вашата телефонска сметка . InForma - Macedonian Journal of Informatics, 2(18), 16–27. Retrieved from https://id-press.eu/informa/article/view/769
Abstract
Извадок
Downloads
Download data is not yet available.