Case Report
Bubble CPAP non-invasive ventilation in treatment of atelectasis after cardiac surgery: case report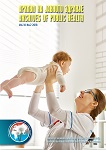 Published 2018-11-12
Keywords
bubble CPAP

,

respiratory distress

,

respiratory failure

,

congenital heart defect
How to Cite
1.
Mandzukovska H. Bubble CPAP non-invasive ventilation in treatment of atelectasis after cardiac surgery: case report . Arch Pub Health [Internet]. 2018 Nov. 12 [cited 2023 Dec. 9];10(2):82-6. Available from: https://id-press.eu/aph/article/view/2247
Abstract
Bubble CPAP is a simple, safe, non-invasive and cost effective method of delivering respiratory support to premature and term neonates. Application of Continuous Positive Airway Pressure (CPAP) in neonates and infants with respiratory distress is associated with reduction of respiratory failure, lung complications and mortality. Case report:  We present a case of an infant with congenital heart defect - coartation of the aorta.  Cardiac surgery was done at the infant's two weeks age. Deterioration of the general condition was observed in the postoperative period along with respiratory insufficiency. Extubation efforts were unsuccessful due to the presence of atelectasis. After bubble CPAP was placed, the atelectasis completely disappeared. Conclusion: The administration of bubble CPAP is as effective as the other forms of non-invasive ventilation, and can decrease the length of hospital stay, which indicates that bubble CPAP could be an optimal alternative in treatment of respiratory failure.
Downloads
Download data is not yet available.
References
Wung JT, Driscoll JM Jr, Epstein RA, Hyman AI. A new device for CPAP by nasal route. Crit Care Med1975;3:76–78.
Chisti MJ, Salam MA, Smith JH, et al. Bubble continuous positive airway pressure for children with severe pneumonia and hypoxaemia in Bangladesh: an open, randomized controlled trial. Lancet 2015; 386:1057-1065.
Tagare A, Kadam S, Vaidya U, et al. A pilot study of comparison of BCPAP vs. VCPAP in preterm infants with early onset respiratory distress. J Trop Pediatr 2010;56(3):191-4.
Davis PG, Morley CJ, Owen LS. Non-invasive respiratory support of preterm neonates with respiratory distress: Continuous positive airway pressure and nasal intermittent positive pressure ventilation. Sem Fetal Neonatal Med. 2009;14(1):14–20.
Morley CJ, Davis PG, Doyle LW, et al. Nasal CPAP or intubation at birth for very preterm infants. N Engl J Med. 2008;358(7):700–8.
Koti J, Murki S, Gaddam P, et al. Bubble CPAP for respiratory distress syndrome in preterm infants. Indian Pediatr 2010;47(2):139-43.
Shroufi A, Chowdhury R, Anchala R, Stevens S, Blanco P, Han T, et al. Cost effective interventions for the prevention of cardiovascular disease in low and middle income countries: a systematic review. BMC Public Health 2013; 13: 285.
Kirsten GF, Kirsten CL, Henning PA, Smith J, Holgate SL, Bekker A, et al. The outcome of ELBW infants treated with NCPAP and InSurE in a resource-limited institution. Pediatrics 2012; 129(4): e952–e959.