Case Report
Оcular manifestation in Goldenhar syndrome- case report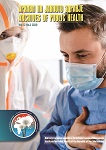 Published 2020-07-16
Keywords
Goldenharsyndrome

,

facial asymmetry

,

epibulbar dermoids

,

hearing loss

,

scoliosis
How to Cite
1.
Velkovska B, Trpevska Shekerinov N, Gjoshevska Dashtevska E, Ivanova M. Оcular manifestation in Goldenhar syndrome- case report. Arch Pub Health [Internet]. 2020 Jul. 16 [cited 2022 Dec. 3];12(2):64-70. Available from: https://id-press.eu/aph/article/view/5195
Abstract
Goldenhar's syndrome (GS) is a complex syndrome characterized by a combination of abnormalities: hemifacial macrosomia, mandibular hypoplasia, ocular dermoids, ear abnormalities, and vertebral disorders. The incidence of GS is about 1 in 5000 to 25,000 live births. The male to female ratio is 3: 2.The etiology of this rare disease is not fully understood. The treatment protocol depends on the age of the patient and systemic clinical presentations. This paper presents a case of a 46-year-old woman with Goldenhar syndrome, which manifested with facial asymmetry, epibulbar dermoid, hearing loss, and scoliosis. Because it is a congenital syndrome, these people's lives are complex from an early age. There is a need for timely recognition of this syndrome and a multidisciplinary approach in treating these patients, with a team of specialist physicians, to enable them as much optimal functioning as possible in the environment. By presenting this case report, we would like to attract the attention of GS, which would be of educational significance for all physicians, primarily ophthalmologists, as well as otolaryngologists and orthopedists.
Downloads
Download data is not yet available.
References
1. Jahanimoghadam F, Sharifi M. Goldenhar Syndrome in a 6-Year-Old Patient: A Case Report and Review of Literature. J Dent (Shiraz) 2019; 20(4): 298–303.
2. DingX, Wang Xi, Cao Y, Zhang J, Lin M, Fan X, Li J. Goldenhar syndrome with blepharophimosis and limb deformities: a case report.BMC Ophthalmol 2018; 18: 206.
3. Pinheiro ALB, AraújoLC, Oliveira SB, SampaioMCC, Freitas AC. Goldenhar's syndrome - case report. Braz Dent J 2003; 14(1): 67-70.
4. Berker N, Acaroğlu G, Soykan E. Goldenhar's Syndrome (oculo-auriculo-vertebral dysplasia) with congenital facial nerve palsy. Yonsei Med J 2004;45(1):157-60.
5. Lakshman AR, Subhas BG, Castelino RL, et al. Goldenhar syndrome: A case report with review of literature. MOJ Biol Med 2017;1(1):18–20.
6. Pegler JR, Soares DC, Quaio CR, Fernandes N, Oliveira LA, Honjo RS еt al. Clinical description of 41 Brazilian patients with oculo-auriculo-vertebral dysplasia. Rev Assoc Med Bras 2016;62(3):202-6..
7. Verma MJ, Faridi MM. Ocular motility disturbances (Duane retraction syndrome and double elevator palsy) with congenital heart disease, a rare association with Goldenhar syndrome - a case report. Indian J Ophthalmol 1992;40(2): 61-2.
8. Beleza-Meireles A, Hart R, Clayton-Smith J, Oliveira R, Reis CF, et al. Oculo-auriculo-vertebral spectrum: clinical and molecular analysis of 51 patients. Eur J Med Genet 2015;58(9):455-65.
9. del Rocio Arce Gonzalez M, Navas A, Haber A, Ramírez-Luquín T, Graue-Hernández EO. Ocular dermoids: 116 consecutive cases.Eye Contact Lens 2013;39(2):188-91.
10. Mansour AM, Wang F, Henkind P, Goldberg R, Shprintzen R. Ocular findings in the facioauriculovertebral sequence (Goldenhar-Gorlin syndrome). Am J Ophthalmol 1985;100(4):555-9.
11. Shrestha DU, AdhikariS. Craniofacial Microsomia: Goldenhar syndrome in association with bilateralcongenitalcataract.Case Rep Ophthalmol Med 2015; 2015: 435967.
12. Rosa RF, Dall'agnol L, Zen PR, Pereira VL, Graziadio C, Paskulin GA. Oculo-auriculo-vertebral spectrum and cardiac malformations.Rev Assoc Med Bras 2010;56(1):62-6.
13. Çelik Т. Epibulbar dermoid and type 1 duane syndrome coexistence in a patient with Goldenhar Syndrome. Turkiye Klinikleri J Case Rep 2018;26(2):79-82.
14. Yun HC, Grayson D, True D. Vertebral anomalies associated with Goldenhar's syndrome. JCR: Journal of Clinical Rheumatology. 2005;11(5):283-284.
15. Baum JL, Feingold M. Ocular aspects of Goldenhar's syndrome. Am J Ophthalmol 1973;75(2): 250-7.