Clinical Science
Developmental disorders of the hip treated at the Clinic for Orthopaedic Diseases – in a period of 10 years (2009-2018)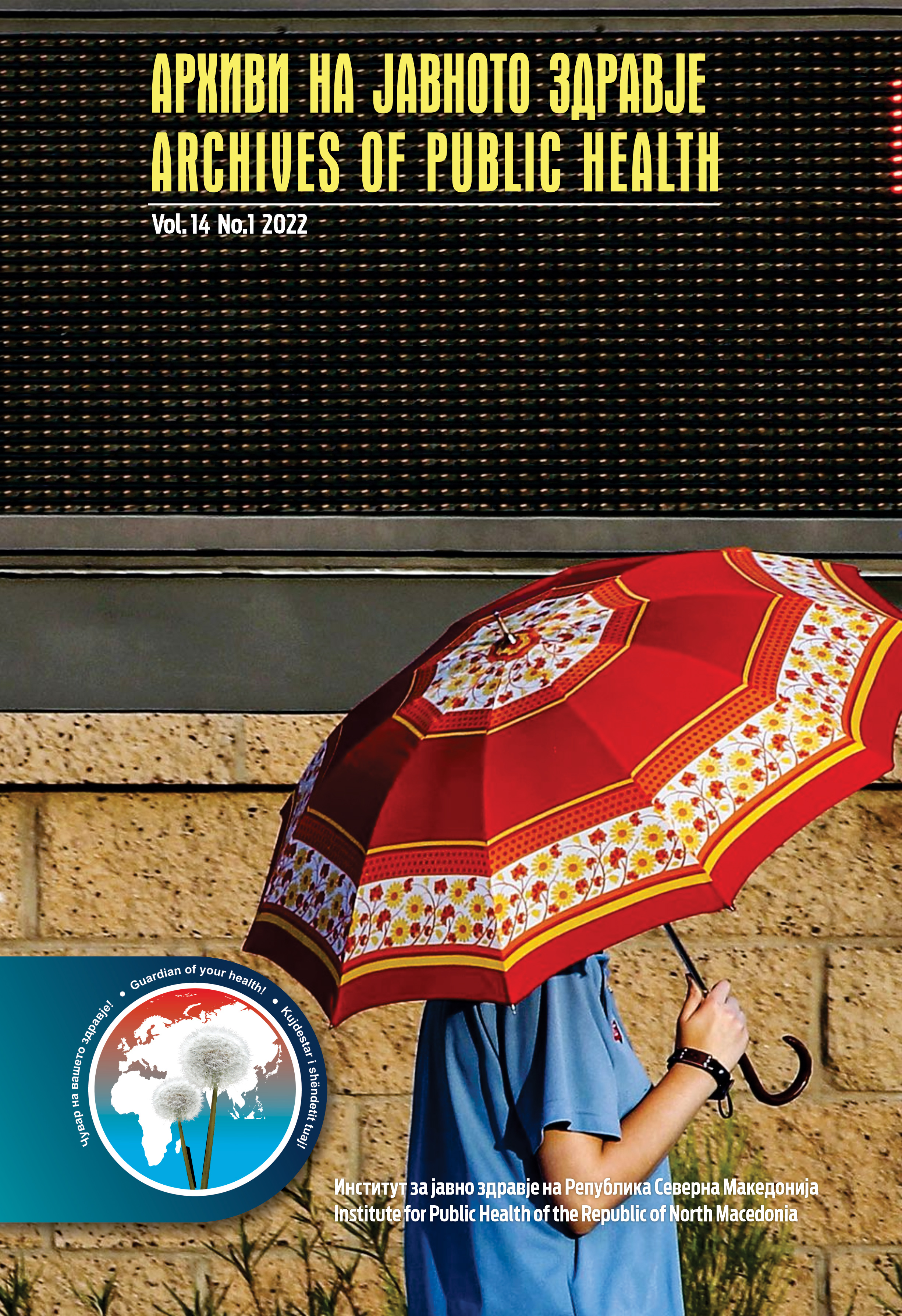 Published 2022-06-23
Keywords
developmental disorders of the hip

,

conservative treatment

,

operative trеatment
How to Cite
1.
Komnenovik M, Bozinovski Z, Trajanovski A, Saveski A, Damjanovik D, Atanasovski I. Developmental disorders of the hip treated at the Clinic for Orthopaedic Diseases – in a period of 10 years (2009-2018). Arch Pub Health [Internet]. 2022 Jun. 23 [cited 2023 Dec. 1];14(1). Available from: https://id-press.eu/aph/article/view/6050
Copyright (c) 2021 Marina Komnenovik, Zoran Bozinovski, Aleksandar Trajanovski, Aleksandar Saveski, Dejan Damjanovik, Igor Atanasovski
This work is licensed under a Creative Commons Attribution 4.0 International License.
Abstract
Developmental hip dysplasia includes a wide range of conditions such as subluxation, dislocation, hip instability, and teratological hip. The diagnosis  was confirmed by clinical examination, ultrasound  examination and anterior-posterior view radiograph  (AP). Treatment  varied  depending on the patient's age and the degree of dysplasia: Pavlik harness, closed reduction, open reduction  and corrective osteotomies. In this  study 242 patients were included, of whom  198 were female  patients and 44 male. All of the patients were treated with conservative treatment- closed reducation and spica casting. Left-sided dislocations were  more common than right sided dislocations with predominance in the female patients. The main treatment in follow-up patients was closed reduction with or without adductor muscle tenotomy   (m. add. longus). In cases with  unsuccessful attempt  of closed reduction, open reduction  was performed with or without adductor muscle tenotomy. Depending on the residual dysplasia, patients were additionally treated with pelvic osteotomies    (Salter 's inominate  osteotomy), varus derotation osteotomy, valgus osteotomy, proximal femoral resection, and  trochanter major  transposition. 167 patients were treated with closed reduction  and 3 with open reduction. The remaining patients were treated with closed reduction and additional surgery or with open reduction and additional surgery. Out of all treated patients, only 10 patients had recurrent dislocation of the hip, 7 female and 3 male patients. Closed reduction was performed again on two patients, and open reduction of the hip was performed on one patient. The average  age  of  patients was  21.5 months. By presenting the cases in a period of 10 years, it was conclud  that most  cases were  diagnosed later. Also, the standard closed reduction treatment  was successful even after the first year in said  patients. Depending on the residual dysplasia of the hip, in order to achieve better congruence of the joint, additional surgeries were  performed.
Downloads
Download data is not yet available.
References
Tamai J, Jaffe LW, Developmental dysplasia of the hip clinical presentation. Medscape. 2018; February 26. Avaiable from: https://emedicine.medscape.com/article/1248135-clinical
Developmental Dysplasia of the Hip (DDH) Avaiable from: https://www.orthobullets.com/pediatrics/4118/developmental-dysplasia-of-the-hip-ddh.
Kotlarsky P, Haber R, Bialik V, Eidelman M. Developmental dysplasia of the hip: What has changed in the last 20 years? World Journal of Orthopedics. 2015; 6(11): 886–901. DOI: https://doi.org/10.5312/wjo.v6.i11.886
Dessi A, Crisafulli M, Vannelli E, Fanos V. Ultrasound in developmental dysplasia of the hip: A screening study in Sardinian newborns. The Official Journal of the Italian Society for Ultrasound in Medicine and Biology. 2009;12(2):80-84. DOI: https://doi.org/10.1016/j.jus.2009.02.001
Poyraz KA, Onur RM, Eroglu Y, Gurger M, Goktekin CM, Akgol G. Computed tomography characteristics of the acetabulum in developmental dysplasia of the hip. Iranian Journal of Radiology 2018;16(1): e68910.
Ömeroglu H. Treatment of developmental dysplasia of the hip with the Pavlik harness in children under six months of age: indications, results and failures. J Child Orthop. 2018;12(4):308-316. DOI: https://doi.org/10.1302/1863-2548.12.180055
Aksoy CM, Closed reduction in the treatment of developmental dysplasia of the hip. Acta Orthopaedica et Traumatologica Turcica. 2007; 41 (1):25-30.
Sewell MD, Eastwood DM. Screening and treatment in developmental dysplasia of the hip—where do we go from here? International Ortopaedics 2011; 35 (9):1359-67 DOI: https://doi.org/10.1007/s00264-011-1257-z
Clarke NM, Harcke HT, McHugh P,Lee MS, Borns PF, MacEwen GD. Real-time ultrasound in the diagnosis of congenital dislocation and dysplasia of the hip. J Bone Joint Surg Br 1985; 67 (3): 406–12. DOI: https://doi.org/10.1302/0301-620X.67B3.3889008
Al-Essa SR, Aljahdali HF, Alkhilaiwi MR, Philip W, Jawadi HA, Khoshhal IK. Diagnosis and treatment of developmental dysplasia of the hip: A current practice of paediatric orthopaedic surgeons. Journal of Orthopadic surgery. 2017; 25(2):2309499017717197. DOI: https://doi.org/10.1177/2309499017717197
Barakat AS, Zein AB, Arafa A S, Azab MA, Reda W, Hegazy MM, Al Babary HM, Kaddah MA. Closed reduction with or without adductor tenotomy for developmental dysplasia of the hip presenting at walking age. Current Orthopaedic Practice. 2017; 28 (2): 195–199. DOI: https://doi.org/10.1097/BCO.0000000000000478
Morin C, Wicart P; French Society of Pediatric Orthopaedics. Congenital dislocation of the hip, with late diagnosis after 1 year of age: update and management. Orthop Traumatol Surg Res. 2012;98(6 Suppl):S154-8. DOI: https://doi.org/10.1016/j.otsr.2012.04.001
Al Shehri MH, Mahmoud AA, Ateeq AA, Alamrani AA. Acetabular remodeling after closed reduction of developmental dysplasia of the hip. Saudi Journal of Medicine and Medical sciences. 2018; 6 (1) 23-26. DOI: https://doi.org/10.4103/sjmms.sjmms_139_16