Oral Health
The role of communication and oral health literacy in prevention and promotion of oral health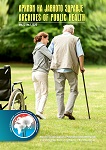 Published 2020-01-31
Keywords
How to Cite
1.
Vasileska L, Kosevska E, Lekovska-Stoicovska T, Rechica V. The role of communication and oral health literacy in prevention and promotion of oral health. Arch Pub Health [Internet]. 2020 Jan. 31 [cited 2022 Dec. 9];12(1):49-57. Available from: https://id-press.eu/aph/article/view/4372
Copyright (c) 2020 Лидушка Василевска, Елена Ќосевска, Тања Лековска Стоицовска , Вјоса Речица
This work is licensed under a Creative Commons Attribution 4.0 International License.
Abstract
Dental care prevention involves prophylactic oral health practices and strategies that are primarily targeted to diseases of the oral tissues with the focus on prevention of certain conditions. Not enough attention has been given to the communication between the dentist and the patient as well as the ability or the inability to understand patient's health information. The aim of this paper is to present the current practices and regulations related to the effective communication between oral healthcare professionals and patient population, and their representation and influence in improving and raising the profile of the oral health on a national level. Materials and method:A systematic literature search was conducted including published scientific articles between 1977 and 2018. Studies discussing the improvement of oral health in the function of general health and well-being in the patient population of all ages were analyzed. The main focus was put on the commitment of the oral health community in the global agenda and the importance of integrating multifactorial approaches to prevention. Particular attention was paid to the representation of the skills for effective communication between health care professionals and patient population, and the medical education (health education), which should result in the individual's health literacy. Results: During the global struggle to improve the oral health, efforts are being made to enhance current practices and share knowledge about preventive care and treatment in oral health science and education in order to ensure the general health and well-being of the patient population of all ages. Unfortunately, the commitment to take action in raising effective communication and oral health literacy is minimal. Conclusion: Improving the communication between the oral health care professionals and the patient population in the direction of an interactive, dynamic and flexible process, as well as raising the level of oral health literacy among the population through targeted and carefully developed medical education should be the first step in any preventive program for raising the level of oral health.
Downloads
Download data is not yet available.
References
Petersen PE, Bourgeois D, Ogawa H, Estupinan-Day S, Ndiaye C. The global burden of oral diseases and risks to oral health. Bull World Health Organ 2005;83(9):661-669.
2. Ferlay J EM, Lam F, Colombet M, Mery L, Piñeros M, Znaor A, Soerjomataram I, Bray F. Global Cancer Observatory: Cancer Today. Lyon, France: International Agency for Research on Cancer. 2018.
3. Mehrtash H, Duncan K, Parascandola M, et al. Defining a global research and policy agenda for betel quid and areca nut. Lancet Oncol 2017;18(12):e767-e775.
4. Warnakulasuriya S. Causes of oral cancer - an appraisal of controversies. Br Dent J 2009; 207(10):471-475.
5. Mehanna H, Beech T, Nicholson T, et al. Prevalence of human papillomavirus in oropharyngeal and nonoropharyngeal head and neck cancer - systematic review and meta-analysis of trends by time and region. Head Neck 2013;35(5):747-755.
6. Reznik DA. Oral manifestations of HIV disease. Top HIV Med 2005;13(5):143-148.
7. Lam R. Epidemiology and outcomes of traumatic dental injuries: a review of the literature. Aust Dent J 2016;61 Suppl 1:4-20.
8. Petti S, Glendor U, Andersson L. World traumatic dental injury prevalence and incidence, a meta-analysis - One billion living people have had traumatic dental injuries. Dent Traumatol 2018.
9. World Health Organization Regional Office for Africa. Information brochure for early detection and management of noma. 2018.Available from: https://apps.who.int/iris/handle/10665/254579
10. Taylor GW, Borgnakke WS. Periodontal disease: associations with diabetes, glycemic control and complications. Oral Dis 2008;14(3):191-203.
1. Sanz M, Ceriello A, Buysschaert M, et al. Scientific evidence on the links between periodontal diseases and diabetes: Consensus report and guidelines of the joint workshop on periodontal diseases and diabetes by the International Diabetes Federation and the European Federation of Periodontology. J Clin Periodontol 2018;45(2):138-149.
2. World Health Organization. Equity, social determinants and public health programmes. Published 2010. Accessed January, 2019.
13. World Health Organization. Strategies for oral disease prevention and health promotion. Available from: http://www.who.int/oral_health/strategies/cont/en/index.html
4. Brosky ME. The role of saliva in oral health: strategies for prevention and management of xerostomia. J Support Oncol 2007; 5: 215-25.
5. Chainani-Wu N, Epstein J, Touger-Decker R. Diet and prevention of oral cancer: strategies for clinical practice. J AmDent Assoc 2011; 142: 166-9.
6. Baricevic M, Mravak-Stipetic M, Majstorovic M, Baranovic M, Baricevic D, Loncar B. Oral mucosal lesions during orthodontic treatment. Int J Paediatr Dent 2011; 21: 96-102.
7. Gallagher JE, Alajbeg I, Bí¼chler S i sur. Public health aspects of tobacco control revisited. Int Dent J 2010; 60: 31-49.
18. Brailo V, Pelivan I, Škaricić J, Vuletić M, Dulcić N,Cerjan-Letica G. Treating patients with HIV and Hepatitis Band C infections: Croatian dental students' knowledge, attitudes, and risk perceptions. J Dent Educ 2011; 75: 1115-26.
19. Rich S. Behavioural Foundations for the Dental Hygiene Process U: Darby M, Walsh M.: Dental Hygiene Theory and Practice, Elsevier (USA), 2003;41-58 4.
20. Nash DA. Engaging children's cooperation in the dental environment through effective communication. Pediatric Dentistry 2006;28(5):455-459.
21. Collins M. Communication in health care: understanding and implementing effective human relationships. St Louis: Mosby;1977
22. Heineken J, Mc Coy N. Establishing a bond with clients of different cultures. Home Healthcare Nurse 2000;18-45
23. Chinn D. Critical health literacy: a review and critical analysis. Soc Sci Med 2011; 73: 60-7.
24.Nutbeam D. Defning and measuring health literacy: what can we learn from literacy studies? Int J Public Health 2009; 54: 303-5.
25. Lee JY, Divaris K, Baker AD, Rozier RG, Lee S-YD,Vann WF Jr. Oral health literacy levels among a low-income WIC population. J Public Health Dent 2011;71:152-60.16.Hewitt M. Oral Health Literacy. Washington DC: Te National Academies Press, 2013.
26. Hewitt M. Oral Health Literacy. Washington DC: Te National Academies Press, 2013.
27. Rudd RE. Oral health literacy: correcting the mismatch. J Public Health Dent 2012; 72 Suppl 1: S31
18. Lee JY, Divaris K, Baker AD, Rozier RG, Vann WF Jr.Te relationship of oral health literacy and self-efcacy with oral health status and dental neglect. Am Ј, Public Health 2012; 102:923-9.
29. Naghibi Sistani MM, Yazdani R, Virtanen J, Pakdaman A, Murtomaa H. Determinants of oral health: does oral health literacy matter? ISRN Dent 2013; 2013: 249591. doi: 10.1155/2013/249591
30. Howard T, Jacobson KL, Kripalani S. Doctor Talk: Physicians' Use of Clear Verbal Communication. J Health Commun 2013 .
31. Cooke MW, Wilson S, Cox P, Roalfe A. Public understanding of medical terminology: non-English speakers may not receive optimal care. J Accid Emerg Med 2000; 17: 119-21.