Clinical Science
Value of MRI in multimodal treatment of locally advanced rectal carcinoma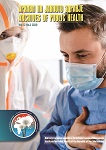 Published 2020-07-16
Keywords
rectal cancer

,

preoperative staging

,

MRI

,

neoadjuvant treatment
How to Cite
1.
Lazarova A, Nikolovski A, Vasilevska-Nikodinovska V. Value of MRI in multimodal treatment of locally advanced rectal carcinoma. Arch Pub Health [Internet]. 2020 Jul. 16 [cited 2022 Dec. 3];12(2):25-31. Available from: https://id-press.eu/aph/article/view/5197
Abstract
MRI is a basic tool in patient selection for preoperative neoadjuvant treatment of rectal carcinoma, with assessment of stage reduction. The aim of the paper was to evaluate chemoradiotherapy effects in advanced stage rectal carcinoma by comparison of MRI findings before and after chemoradiotherapy. Material and methods: Prospectively, MRI findings of 15 patients with rectal carcinoma confirmed at colonoscopy, were evaluated. In all patients preoperative neoadjuvant treatment was done and MRI restaging was performed after 6 to 8 weeks. MRI standard protocol was done on 1.5T machine, sagital T2WI, axial T1WI, T2WI and DWI. On MRI was assessed tumor and nodal stage, presence of extra-mural vascular invasion (EMVI), tumor localization within the rectum (low, medium, high rectum, recto-sigmoid junction). Computer tomography was performed in all patients for distant metastases assessment. Results: Out of 15 patients, 12 (66.7%) were male, and 3 (33.3 %) were female, with a mean age of 65 years (range 50 to 80years). Six cases had middle rectum localization, 6 cases in low rectum, and 3 patients had recto-sigmoid localization. At initial MRI, 7 cases (46.6%) had MR signs for T3 stage, and 8 cases (53.3%) had T4 stage. Comparison of MRI results before and after chemoradiotherapy showed stage decreasing in 5(33.3%), from T4 to T3 stage. In 11 patients (73.7%), EMVI after therapy became negative with a statistically significant difference before and after chemoradiotherapy. All patients before therapy had different numbers of metastatic lymph nodes in mesorectum, with number reduction in all cases after therapy and two patients were without metastatic lymph nodes. Conclusion: MRI has a significant value in pre- and post-neoadjuvant therapy assessment of resection margins involved by tumor, positive extramural vascular invasion, and metastatic lymph node around resection margins. This is important for operative planning in order to avoid extensive resection with surgery techniques that preserve the anal sphincter.
Downloads
Download data is not yet available.
References
1. Thorat MA, Cuzick J. Role of aspirin in cancer prevention. Curr Oncol Rep 2013;15(6) 533-540
2. Del Vescovo R, Trodella LE, Sansoni I, et al. MR imaging of rectal cancer before and after chemo-radiation therapy. Radiol Med (Torino) 2012; 117:1125–1138
3. Jung SH, Heo SH, Kim JW, et al. Predicting response to neoadjuvant chemoradiation therapy in locally advanced rectal cancer: diffusion-weighted 3 Tesla MR imaging. J Magn Reson Imaging 2012; 35:110–116
4. DeVries AF, Piringer G, Kremser C, et al. Pre-treatment evaluation of microcirculation by dynamic contrast-enhanced magnetic resonance imaging predicts survival in primary rectal cancer patients. Int J Radiat Oncol Biol Phys 2014; 90:1161–1167
5. Gollub MJ, Gultekin DH, Akin O, et al. Dynamic contrast enhanced-MRI for the detection of pathological complete response to neoadjuvant chemotherapy for locally advanced rectal cancer. Eur Radiol 2012;22:821
6. Kapiteijn E, Marijnen CAM, Nagtegaal ID, et al. Preoperative radiotherapy combined with total mesorectal excision for resectable rectal cancer. N Engl J Med 2001; 345(9):638–646
7. Harrison JC, Dean PJ, el-Zeky F, Vander Zwaag R. From Dukes through Jass: pathological prognostic indicators in rectal cancer. Hum Pathol 1994; 25:498 –505
8. Mannaerts GHH, Martijn H, Crommelin MA, et al. Intraoperative electron beam radiation therapy for locally recurrent rectal carcinoma. Int JRadiat Oncol Biol Phys 1999;45(2):297–308.
9. Beets-Tan RG, Lambregts DM, Maas M, et al. Magnetic resonance imaging for the clinical management of rectal cancer patients: recommendations from the 2012 European Society of Gastrointestinal and Abdominal Radiology (ESGAR) consensus meeting. Eur Radiol 2013; 23:2522–2531
10. Slater A, Halligan S, Taylor SA, Marshall M. Distance between the rectal wall and mesorectal fascia measured by MRI: effect of rectal distension and implications for preoperative prediction of a tumour-free circumferential resection margin. Clin Radiol 2006; 61:65–70
11. Furey E, Jhaveri KS. Magnetic resonance imaging in rectal cancer. Magn Reson Imaging Clin N Am 2014; 22:165–190, v–vi
12. Suzuki C, Torkzad MR, Tanaka S, et al. The importance of rectal cancer MRI protocols on interpretation accuracy. World J Surg Oncol 2008; 6:89
13. Hahnioser D, Nelson H, Gunderson LL, et al. Curative potential of multimodality therapy for locally recurrent rectal cancer. Annals of Surgery 2003;237(4):502–508.
14. Maas M, Lambregts DM, Lahaye MJ, et al. T-staging of rectal cancer: accuracy of 3.0 Tesla MRI compared with 1.5 Tesla. Abdom Imaging 2012; 37:475–481
15. Donmez FY, Tunaci M, Yekeler E, Balik E, Tunaci A, Acunas G. Effect of using endorectal coil in pre-operative staging of rectal carcinomas by pelvic MR imaging. Eur J Radiol 2008; 67:139–145
16. Slater A, Halligan S, Taylor SA, Marshall M. Distance between the rectal wall and mesorectal fascia measured by MRI: effect of rectal distension and implications for preoperative prediction of a tumour-free circumferential resection margin. Clin Radiol 2006; 61:65–70
17. .Furey E, Jhaveri KS. Magnetic resonance imaging in rectal cancer. Magn Reson Imaging Clin N Am 2014; 22:165–190, v–vi
18. Roh MS, Colangelo LH, O'Connell MJ, et al. Preoperative multimodality therapy improves disease-free survival in patients with carcinoma of the rectum: NSABP R-03. J Clin Oncol 2009; 27:5124–5130
19. Park JH, Kim JH, Ahn SD, et al. Prospective phase II study of preoperative chemoradiation with capecitabine in locally advanced rectal cancer. Cancer Res Treat 2004; 36:354–359
20. Engelen SM, Beets-Tan RG, Lahaye MJ, Kessels AG, Beets GL. Location of involved mesorectal and extramesorectal lymph nodes in patients with primary rectal cancer: preoperative assessment with MR imaging. Eur J Surg Oncol 2008