Clinical Science
Mastering the learning curve significantly reduces operative time for laparoscopic treatment of complicated appendicitis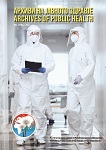 Published 2021-11-20
Keywords
complicated appendicitis

,

laparoscopic appendectomy

,

operative time

,

learning curve
How to Cite
1.
Nikolovski A, Otljanski A, Seljmani R, Antovic S, Jankulovski N. Mastering the learning curve significantly reduces operative time for laparoscopic treatment of complicated appendicitis. Arch Pub Health [Internet]. 2021 Nov. 20 [cited 2023 Jun. 3];13(2):96-100. Available from: https://id-press.eu/aph/article/view/6000
Copyright (c) 2021 Andrej Nikolovski, Aleksandar Otljanski, Rexhep Seljmani, Svetozar Antovic, Nikola Jankulovski
This work is licensed under a Creative Commons Attribution 4.0 International License.
Abstract
Laparoscopic appendectomy is the preferred operative method for acute appendicitis
treatment. In terms of complicated appendicitis it can be effective in hands of an experienced
laparoscopist that overwhelmed the learning curve for the method. Aim: Тhis retrospective
study examines whether the operative time for laparoscopic appendectomy for complicated
appendicitis is shortened after mastering the learning curve. Material and methods: A total
number of 196 patients were operated for the diagnosis of acute appendicitis, of whom 77
were diagnosed with complicated appendicitis. They were subsequently divided in two groups
(laparoscopic and open). Operative time in both groups was measured and the conversion
and postoperative complications were noted. Results: Conversion rate was 2.3%. Operative
time was shorter in the laparoscopic group (67.4 ± 22.9 vs. 77.9 ± 17.9 minutes; p = 0.033).
Overall postoperative morbidity was 25.97% with wound infection present only in the open
group (p = 0.018). Intraabdominal abscess occurred in one patient from the laparoscopic
group (0.38%). Length of hospital stay was shorter in the laparoscopic group (4.3 ± 2.2 vs. 5.7 ± 2.1, p = 0.0052).
Downloads
Download data is not yet available.
References
Di Saverio S, Podda M, De Simone B. et al. Diagnosis and treatment of acute appendicitis: 2020 update of the WSES Jerusalem guidelines. World J Emerg Surg 2020;15: 27 DOI: https://doi.org/10.1186/s13017-020-00306-3
Yu MC, Feng YJ, Wang W, Fan W, Cheng HT, Xu J. Is laparoscopic appendectomy feasible for complicated appendicitis? A systematic review and meta-analysis. Int J Surg 2017; 40:187–197 DOI: https://doi.org/10.1016/j.ijsu.2017.03.022
Masoomi H, Nguyen NT, Dolich MO, et al. Laparoscopic appendectomy trends and outcomes in the United States: data from the Nationwide Inpatient Sample (NIS), 2004–2011. Am Surg 2014;80: 1074-7 DOI: https://doi.org/10.1177/000313481408001035
Horvath P, Lange J, Bachmann R, Struller F, Königsrainer A, Zdichavsky M. Comparison of clinical outcome of laparoscopic versus open appendectomy for complicated appendicitis. Surg Endosc 2017; 31(1):199–205 DOI: https://doi.org/10.1007/s00464-016-4957-z
Athanasiou C, Lockwood S, Markides GA. Systematic review and meta-analysis of laparoscopic versus open appendicectomy in adults with complicated appendicitis: an update of the literature. World J Surg 2017; 41(12):3083–99 DOI: https://doi.org/10.1007/s00268-017-4123-3
Panagiotopoulou IG, Parashar D, Lin R, Antonowicz S, Wells AD, Bajwa FM, Krijgsman B. The diagnostic value of white cell count, C-reactive protein and bilirubin in acute appendicitis and its complications. Ann R Coll Surg Engl 2013; 95(3):215-21 DOI: https://doi.org/10.1308/003588413X13511609957371
Patel SV, Nanji S, Brogly SB, Lajkosz K, Groome PA, Merchant S. High complication rate among patients undergoing appendectomy in Ontario: a population-based retrospective cohort study. Can J Surg 2018;61(6):412–417 DOI: https://doi.org/10.1503/cjs.011517
Jeon BG, Kim HJ, Jung KH, Kim SW, Park JS, Kim KH, Kim ID, Lee SJ. Prolonged operative time in laparoscopic appendectomy: Predictive factors and outcomes. Int J Surg. 2016;36(Pt A):225-232. DOI: https://doi.org/10.1016/j.ijsu.2016.10.035
Neugebauer E, Troidl H, Kum CK, Eypasch E, Miserez M, Paul A. The E.A.E.S. Consensus Development Conferences on laparoscopic cholecystectomy, appendectomy, and hernia repair. Consensus statements--September 1994. The Educational Committee of the European Association for Endoscopic Surgery. Surg Endosc. 1995;9(5):550-63 DOI: https://doi.org/10.1007/BF00206852
Kim SY, Hong SG, Roh HR, Park SB, Kim YH, Chae GB. Learning curve for a laparoscopic appendectomy by a surgical trainee. J Korean Soc Coloproctol 2010;26(5):324-328 DOI: https://doi.org/10.3393/jksc.2010.26.5.324
Li X, Zhang J, Sang L, Zhang W, Chu Z, Li X, Liu Y. Laparoscopic versus conventional appendectomy--a meta-analysis of randomized controlled trials. BMC Gastroenterol 2010; 10:129 DOI: https://doi.org/10.1186/1471-230X-10-129
Biondi A, Di Stefano C, Ferrara F, Bellia A, Vacante M, Piazza L. Laparoscopic versus open appendectomy: a retrospective cohort study assessing outcomes and cost-effectiveness. World J Emerg Surg 2016;11(1):44 DOI: https://doi.org/10.1186/s13017-016-0102-5
Wang D, Dong T, Shao Y, Gu T, Xu Y, Jiang Y. Laparoscopy versus open appendectomy for elderly patients, a meta-analysis and systematic review. BMC Surg 2019;19(1):54 DOI: https://doi.org/10.1186/s12893-019-0515-7
Takami T, Yamaguchi T, Yoshitake H, et al. A clinical comparison of laparoscopic versus open appendectomy for the treatment of complicated appendicitis: historical cohort study. Eur J Trauma Emerg Surg 2020;46(4):847-851 DOI: https://doi.org/10.1007/s00068-019-01086-5
Park JB, Sul JY. Laparoscopic appendectomy: a safe primary procedure for complicated appendicitis. J Korean Surg Soc 2007; 72:51–56
Yau KK, Siu WT, Tang CN, Yang GP, Li MK. Laparoscopic versus open appendectomy for complicated appendicitis. J Am Coll Surg 2007; 205:60–65 DOI: https://doi.org/10.1016/j.jamcollsurg.2007.03.017