Clinical Science
The most common bacterial isolates from wound samples – a three-year study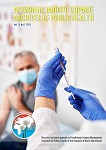 Published 2021-06-20
Keywords
wound samples, resistant bacteria, Staphylococcus aureus, carbapenem-resistant bacteria
How to Cite
1.
Kaftandzieva A, Kostovski M, Mehmeti B, Mirchevska G. The most common bacterial isolates from wound samples – a three-year study. Arch Pub Health [Internet]. 2021 Jun. 20 [cited 2023 Nov. 30];13(1):77-90. Available from: https://id-press.eu/aph/article/view/5736
Copyright (c) 2021 Ana Kaftandzieva, Marko Kostovski, Blerta Mehmeti, Gordana Mirchevska
This work is licensed under a Creative Commons Attribution 4.0 International License.
Abstract
Aim: The aim of our study was to determine the most common bacteria isolated from wound samples and tо compare the frequency of the resistant bacteria isolated over a 3-year period. Material and methods: During a three years period (2017-2019) a total of 11 863 wound samples (wound swabs, punctuates, exudates, tissue, etc.) were obtained from the hospitalized patients in the University Clinics of the ,,Mother Theresa" campus, the City hospital ,,8th September" and the University Clinic for surgical diseases ,,St. Naum Ohridski" in Skopje. All samples were processed at the Institute of Microbiology and Parasitology, Faculty of Medicine, Skopje. They were examined by standard microbiology techniques. Identification and susceptibility of microorganisms were done by both standard methods and automatized Vitek 2 system. Results: Out of a total number of samples, which was 3 463 in 2017, 4 127 in 2018 and 4 273 in 2019, positive were 2 068 (60%), 2 302 (55.8%) and 2 387 (55.9%), respectively. From the total of aerobes/facultative anaerobes (2 758, 2 949 and 3 279 in three consecutive years, 2017, 2018 and 2019, respectively), Staphylococcus aureus was the most predominant isolate (19.5%, 16.6%, 16.9%) followed by Enterococcus spp (16%, 16%, 16.7%), Pseudomonas aeruginosa (12%, 13%, 12.7%) and E. coli (10%, 10.4%, 10.7%). Considering anaerobic bacteria, the percentage of Gram positive anaerobes (Peptostreptococcus) has decreased from 33% to 18% out of a total number of anaerobes, unlike Gram negative anaerobes in which the increasing percentage was mostly observed in bacteria of the genus Bacteroides (from 39% to 45%). The percentage of the resistant strains of MRSA, CNS-MR and VRE was almost the same in that period. In Gram-negatives the percentage of ESBL-positive isolates of E. coli and Enterobacter spp. increased consecutively from 2017 to 2019. The increase in the percentage of resistant strains was more noticeable in ESBL-positive isolates of Klebsiella pneumonia between 2017 and 2018, but in 2019 a percentage decrease can be observed. Considering carbapenem-resistant (CR) Enterobacterales, an increase in the resistance was noticeable in K. pneumonia. The increase in the percentage of resistant strains in Enterobacter spp. between 2017 and 2018, as well as the decrease between 2018 and 2019 was statistically significant. The percentage of CR-isolates of Pseudomonas aeruginosa was from 30% to 38% and for Acinetobacter spp. this percentage was from 81% to 85%. Conclusion: The knowledge of the most commonly isolated bacterial pathogens, especially the presence of resistant bacteria, is crucial and should be continuously monitored in order to understand, construct and update effective treatment algorithms and guidelines.
Downloads
Download data is not yet available.