Case Report
Straight wire and segmented technique in canine retraction-case reports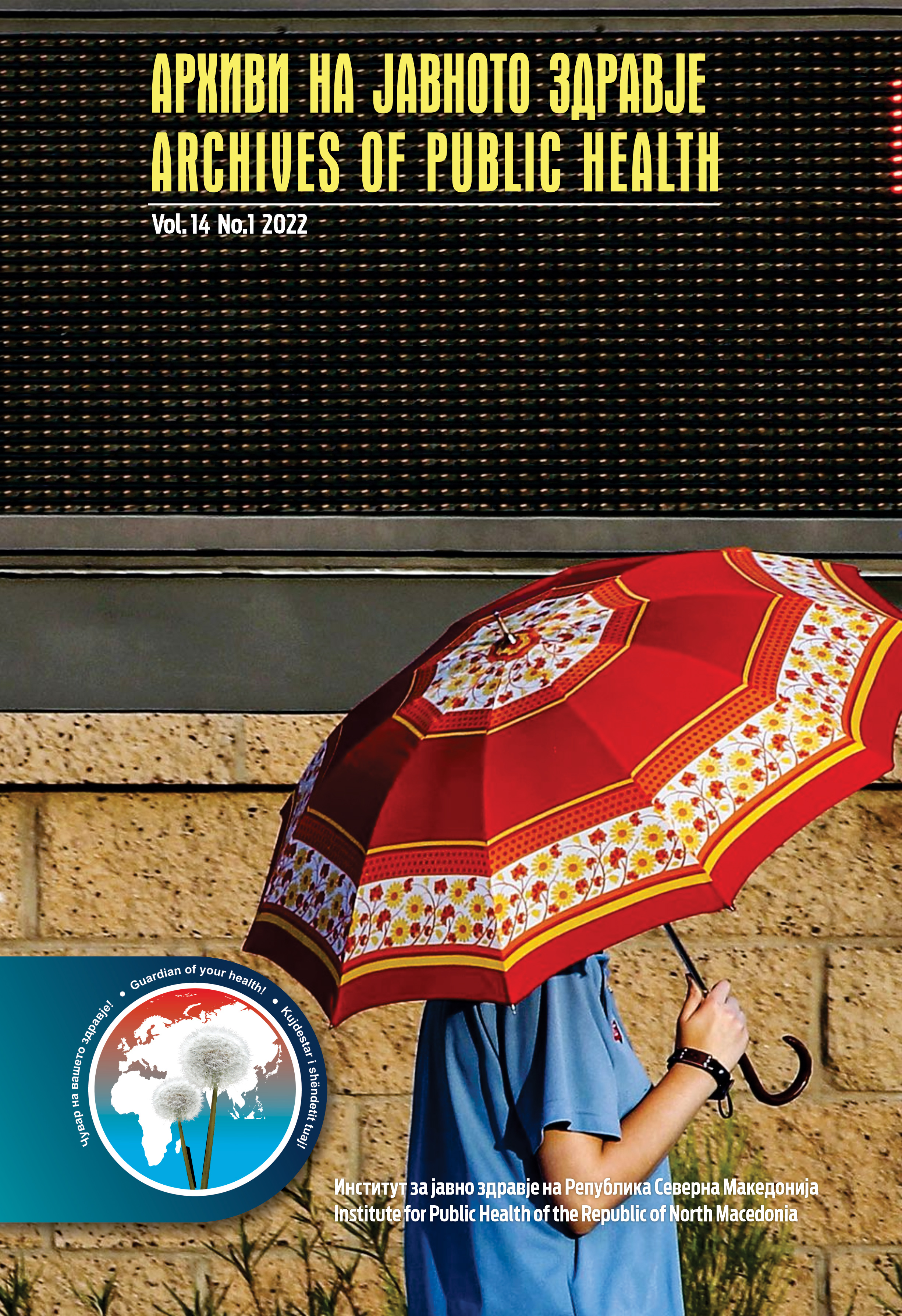 Published 2022-06-23
Keywords
Canine retraction

,

Segmented technique

,

T-Loop

,

Straight wire technique
How to Cite
1.
Trpevska V, Tanatarec I, Srbinoska D, Mijoska A. Straight wire and segmented technique in canine retraction-case reports. Arch Pub Health [Internet]. 2022 Jun. 23 [cited 2023 Jun. 3];14(1). Available from: https://id-press.eu/aph/article/view/6024
Copyright (c) 2021 Vesna Trpevska, Ivan Tanatarec, Daniela Srbinoska, Aneta Mijoska
This work is licensed under a Creative Commons Attribution 4.0 International License.
Abstract
Correct positioning of the canines after their retraction is of great importance for the function, stability and esthetics. Aim: Two case reports were presented to compare the efficiency of two techniques for canine retraction, segmented mechanics using 0.017 x 0.025 TMA T-loop vs sliding straight-wire mechanics usingelastomeric chains. Material and methods: The first case describes orthodontic treatment with 0.017 x 0.025 TMA T-loop whereas the second case describes a 9 mm canine retraction using elastomeric chains. Results: Depending on the type of malocclusion both techniques for canine retraction can be used. Post treatment results showed canine retraction with good anchorage control and no mesial movement of the molars.Conclusion: Both techniques provide an optimum rate of tooth movement and none of the methods can be considered superior in terms of tooth movement or side effects, including rotation, tipping, root resorption, anchorage loss, as well as associated pain.
Downloads
Download data is not yet available.
References
Bass TB. Observation on the misplaced upper canine tooth. Den Pract 1967; 18:25-37.
Ma W, Preston B, Asai Y, Guan H, Guan G. Perceptions of dental professionals and laypeople to altered maxillary incisor crowding. Am J Orthod Dentofacial Orthop 2014; 146:579-86. DOI: https://doi.org/10.1016/j.ajodo.2014.07.018
Bernabe E, Kresevic V, Cabrejos S. Dental esthetic self-perception in young adults with and without previous orthodontic treatment. Angle Orthod 2006; 76:412-6.
Chaushu S, Bongart M, Aksoy A, Ben-Bassat Y, Becker A. Buccalectopia of maxillary canines with no crowding. Am J Orthod Dentofacial Orthop 2009; 136:218-23. DOI: https://doi.org/10.1016/j.ajodo.2007.10.047
Dermaut LR, De Pauw G. Biomechanical aspects of Class II mechanics with special emphasis in deep bite correction as part of the treatment goal. In: Nanda R ed. Biomechanics in clinical Orthodontics 1997 Philadelphia, PaW.B. Saunders Co:86-98.
Nanda R. The differential diagnosis and treatment of excessive overbite. Dent Clin North Am. 1981;25(1):69-84. DOI: https://doi.org/10.1016/S0011-8532(22)02825-7
Burstone CJ. Rationale of the segmented arch. Am J Orthod 1962; 48(11):805-822. DOI: https://doi.org/10.1016/0002-9416(62)90001-5
Burstone CJ. Baldwin JJ. Lawless DJ. The application of continuous forces to orthodontic. Angle Orthod 1961:31:1-14.
Burstone CJ. The mechanics of segmented arch techniques. Angle Orthod 1966:36:99-120.
Abraham J. Rate of canine retraction and anchor loss during individual canine retraction. Biosci Biotechnol Res Commun. 2020;13(8):445–8. DOI: https://doi.org/10.21786/bbrc/13.8/178
Buyuk SK, Guler MS, Bekci ML. Effect of arch wire size on orthodontic reverse closing loop and retraction force in canine tooth distalization: Three-dimensional finite element analysis. J Orofac Orthop. 2019;80(1):17–24. DOI: https://doi.org/10.1007/s00056-018-0161-1
Chacko A, Tikku T, Khanna R, Maurya RP, Srivastava K. Comparative assessment of the efficacy of closed helical loop and T-loop for space closure in lingual orthodontics—a finite element study. Prog Orthod . 2018;19(1). DOI: https://doi.org/10.1186/s40510-018-0210-8
Ferreira JB, Silveira GS, Mucha JN. A simple approach to correct ectopic eruption of maxillary canines. Am J Orthod Dentofacial Orthop. 2019; 155(6):871–80. DOI: https://doi.org/10.1016/j.ajodo.2017.11.046
Burstone CJ, Goldberg AJ. Beta titanium: a new orthodontic alloy. American journal of orthodontics 1980;77.2:121-132. DOI: https://doi.org/10.1016/0002-9416(80)90001-9
Kazuo T, Koenig HA, Burstone CJ. Moment to force ratios and the center of rotation. Am J OrthodDentofacial Orthop 1988;94.5: 426-431. DOI: https://doi.org/10.1016/0889-5406(88)90133-3
Burstone CJ, Koenig HA. Force systems from an ideal arch. American journal of orthodontics 1974;65.3:270-289. DOI: https://doi.org/10.1016/S0002-9416(74)90332-7
Burstone CJ. The biomechanics of tooth movement. Vistas in orthodontics. Lea & Febiger Philadelphia 1962;197-213.
Makhlouf M, Aboul-Ezz A, Fayed MS, Hafez H. Evaluating the amount of tooth movement and root resorption during canine retraction with friction versus frictionless mechanics using cone beam computed tomography. Open Access Maced J Med Sci. 2018; 6(2):384-388. DOI: https://doi.org/10.3889/oamjms.2018.066