Public Health
Understanding the health context for implementation of a new digital psychosocial intervention for improvement of the mental health in North Macedonia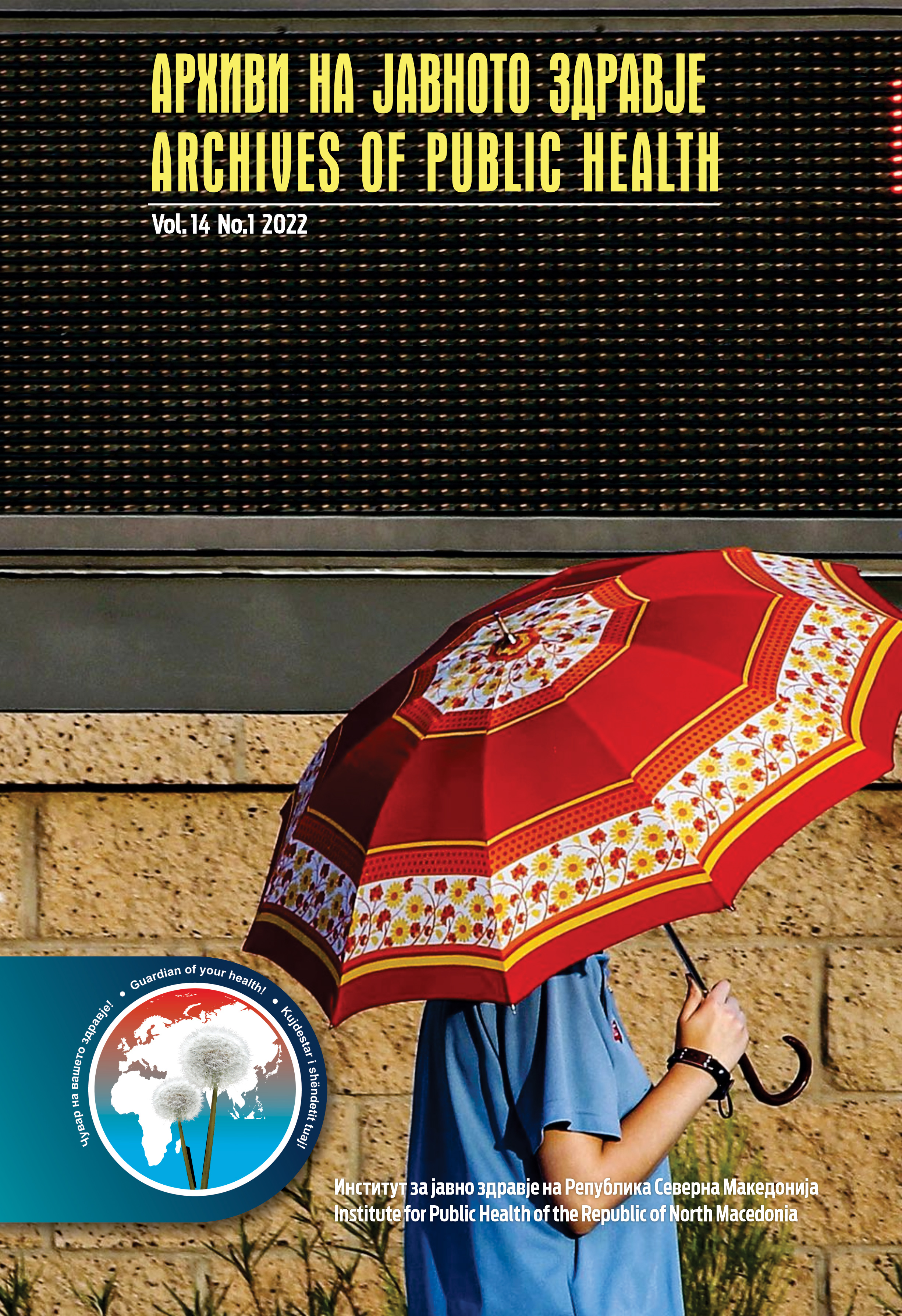 Published 2022-06-23
Keywords
local context

,

psychosocial intervention

,

DIALOG

,

psychotic disorders

,

mental health
How to Cite
1.
Novotni L, Markovska-Simoska S, Blazhevska-Stoilkovska B, Milutinovic M, Bajraktarov S, Novotni A, Jovanovic N, Spasovski M. Understanding the health context for implementation of a new digital psychosocial intervention for improvement of the mental health in North Macedonia. Arch Pub Health [Internet]. 2022 Jun. 23 [cited 2023 Jun. 7];14(1). Available from: https://id-press.eu/aph/article/view/6029
Copyright (c) 2022 Ljubisha Novotni, Silvana Markovska-Simoska, Biljana Blazhevska-Stoilkovska, Milos Milutinovic, Stojan Bajraktarov, Antoni Novotni, Nikolina Jovanovic, Mome Spasovski
This work is licensed under a Creative Commons Attribution 4.0 International License.
Abstract
The aim of this study was to identify the contextual attributes in North Macedonia and their characteristics relevant to the implementation of a new digital intervention to improve mental health, called DIALOG+. This research is the first of its kind in North Macedonia due to the analysis of contextual attributes that may affect the effectiveness of the intervention and its acceptability in various settings of mental health care. Some of the data processed in this paper were provided and analyzed by the National Mental Health Strategy 2018-2025 and other relevant accompanying documents from the World Health Organization and action plans, as well as through interviews with stakeholders (patients, carers, clinicians and policy makers) for their opinion before introducing the DIALOG + intervention and the report on the assessment of the situation in the centers where the implementation of the intervention should have started. The collected data were then mapped to a framework developed by the Ottawa Implementation Group, which included 14 contextual attributes. The results are summarized in 2 subgroups, and are presented as facilitators and barriers to implementation, specific to the mental health system in North Macedonia. The characteristics of DIALOG + (widely applicable psychosocial intervention) are in accordance with modern assumptions for psychosocial rehabilitation of patients with psychosis. Hence, we can conclude that it is a useful tool for professionals in monitoring and achieving the true vision and mission of these institutions. It will help patients reintegrate into society, become more independent and use their full potential in the pursuit of healthy and functional living.
Downloads
Download data is not yet available.
References
Sadock B J, Sadock V Kaplan and Sadock's Synopsis of Psychiatry: Behavioral Science/Clinical Psychiatry. 11th edition, Wolters Kluwer, 2014.
WHO-AIMS Report on Mental health System in the Former Yugoslav Republic of Macedonia. WHO, Country Office, Skopje & WHO, Regional Office for Europe, 2009.
May CR, Johnson M, Finch T. Implementation, context and complexity. Implement Sci. 2016;11(1). DOI: https://doi.org/10.1186/s13012-016-0506-3
Ovretveit J. Understanding the conditions for improvement: research to discover which context influences affect improvement success. BMJ Qual Saf. 2011;20(Suppl 1):i18–23. DOI: https://doi.org/10.1136/bmjqs.2010.045955
Coles E, Wells M, Maxwell M, Harris FM, Anderson J, Gray NM, et al. The influence of contextual factors on healthcare quality improvement initiatives: what works, for whom and in what setting? Protocol for a realist review. Syst Rev 2017;6(1). DOI: https://doi.org/10.1186/s13643-017-0566-8
Damschroder LJ, Aron DC, Keith RE, Kirsh SR, Alexander JA, Lowery JC. Fostering implementation of health services research findings into practice: a consolidated framework for advancing implementation science. Implement Sci. 2009;4(1). DOI: https://doi.org/10.1186/1748-5908-4-50
Kaplan HC, Brady PW, Dritz MC, Hooper DK, Linam WM, Froehle CM, et al. The influence of context on quality improvement success in health care: a systematic review of the literature: quality improvement success in health care. Milbank Q. 2010;88(4):500–59. DOI: https://doi.org/10.1111/j.1468-0009.2010.00611.x
Priebe S, Omer S, Giacco D, Slade M. Resource-oriented therapeutic models in psychiatry: conceptual review. The British Journal of Psychiatry 2014; 204(4), 256-261. DOI: https://doi.org/10.1192/bjp.bp.113.135038
Jovanović N, Francis J, Marić N, Arënliu A, Barjaktarov S, Kulenović Dž, et al. Implementing a psychosocial intervention DIALOG+ for patients with psychotic disorders in low and middle income countries in South Eastern Europe: protocol for a hybrid effectiveness-implementation cluster randomized clinical trial (IMPULSE). Global Psychiatry 2019; 2(2), 1-14. DOI: https://doi.org/10.52095/gpa.2020.1319
Ministry of health of the Republic of North Macedonia. National strategy of mental health 2018-2025, Skopje.
Squires JE, Aloisio LD, Grimshaw JM et al. Attributes of context relevant to healthcare professionals' use of research evidence in clinical practice: a multi-study analysis. Implementation Sci 2019; 14(1), 52. DOI: https://doi.org/10.1186/s13012-019-0900-8
Official Journal of the Republic of Macedonia no 71/2006. Law for mental health.
Mental health Atlas: FYR Macedonia, 2011. Available at http://www.who.int/mental_health/evidence /atlas/profiles/mkd_mh_profile.pdf
Priebe S, McCabe R, Bullenkamp J, Hansson L, Lauber C, Martinez-Leal R, et al. Structured patient-clinician communication and 1-year outcome in community mental healthcare: cluster randomised controlled trial. Br J Psychiatry. 2007; 191:420-426. DOI: https://doi.org/10.1192/bjp.bp.107.036939
Rosenheck R, Stroup S, Keefe RS, McEvoy J, Swartz M, Perkins D, et al. Measuring outcome priorities and preferences in people with schizophrenia. Br J Psychiatry. 2005; 187:529-536. DOI: https://doi.org/10.1192/bjp.187.6.529
Lasalvia A, Bonetto C, Malchiodi F, Salvi G, Parabiaghi A, Tansella M, Ruggeri M. Listening to patients' needs to improve their subjective quality of life. Psychol Med. 2005;35(11):1655-65. DOI: https://doi.org/10.1017/S0033291705005611
Holloway F, Carson J. Subjective Quality of Life, Psychopathology, Satisfaction With Care and Insight: an Exploratory Study. International Journal of Social Psychiatry. 1999;45(4):259-267. DOI: https://doi.org/10.1177/002076409904500404
Trieman N, Leff J, Glover G. Outcome of long stay psychiatric patients resettled in the community: prospective cohort study. British Medical Journal 1999; 319, 13–16. DOI: https://doi.org/10.1136/bmj.319.7201.13