Public Health
Assessment of the physical environment situation in primary schools in the Republic of North Macedonia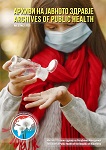 Published 2020-12-15
Keywords
physical environment

,

elementary schools

,

current situation

,

priority

,

Republic of North Macedonia
How to Cite
1.
Prosheva S, Kjosevska E, Velikj Stefanovska V. Assessment of the physical environment situation in primary schools in the Republic of North Macedonia. Arch Pub Health [Internet]. 2020 Dec. 15 [cited 2023 Dec. 1];12(3):5-15. Available from: https://id-press.eu/aph/article/view/5418
Abstract
It is important for the health of the children who go to primary school to have clean drinking water, appropriate toilets, healthy food available  for all and a safe place to learn and play within the school. The aim of this paper was to assess the physical environment of the primary schools across the country, taking into account the current situation of the schools and the priorities they have for improving the school physical environment. Material and methods: Home and foreign literature deposited in PubMed, Scopus and other scientific basses was used. A cross-sectional study covering 320 primary schools in RNM was conducted. The data were collected using the Rapid Assessment Tool, and they were statistically analyzed using the SPSS software package, version 22.0 for Windows (SPSS, Chicago, IL, USA). Qualitative analysis was performed by determining coefficients of relationships, proportions, and rates. Quantitative series were analyzed using central tendency measures as well as dispersion measures. Results: The current situation was rated as the best (75.31%) by the statement - "All buildings of the school maintain a pleasant temperature, lighting and ventilation". The lowest rated (36.56%) was the current status statement - "School canteen, store and appliances offer healthy food and drink at reasonable prices." Priority (83.44%) was the statement - "School buildings are tailored to students, they are safe, clean and promote hygiene for all students". We can see that better conditions in terms of physical environment are observed among students who attend classes in Macedonian language or are multiethnical, compared to students who attend classes in Albanian language, as well as that the urban schools compared to village schools have better conditions for work. Although the situation in the Southwest region is among the worst at the moment, the schools in this region are still striving to improve. Conclusion: According to the current situation, there is a lack of school canteens, shops and appliances near the schools that would offer healthy food and drinks. The highest priority is for school facilities to be adapted to students, to be safe, clean and to promote hygiene for all students and school staff.
Downloads
Download data is not yet available.